My impression of the consumer Virtuix Omni
Once again I had the pleasure of helping demonstrate the Omni at CES. The improvements over last year's prototype are many, so I'll get right to it.
The Harness
Smooth machined metal, contoured fabric with extra padding, you could wear this comfortably for hours.
The Ring
Sleek and rounded (the hard edges are gone). A bolt is no longer used to lock into place, which is good, because I kept dropping it. Just pull the handle down after you get in and you are secure.
The Base
Fewer grooves and an even better level of friction for easier locomotion.
The Shoes
Minor adjustments to the sole also contribute to the newly improved contact with the base. They are so comfortable you might forget you are wearing them, and then embarrass yourself by asking people if they have seen your shoes anywhere (cough).
Tracking
The capacitive tracking has gone, replaced with IMU based rechargeable pods that slot into the shoes. I much prefer these - the analogue speed is fantastic. Now that every ounce of effort you put into your speed-run is translated into the game, beating your best time is extremely satisfying. The pods themselves are beautiful, and you will want to carry them around with you to show your friends.
Height Adjustment
I only did this a couple of times, but it was really easy and quick compared to the prototype (you can forget the monkey-wrench). You can do it standing in the Omni, flipping the latches at the bottom open and closed with your feet, and using the handles on the ring to get it just right. The supports are clearly marked with numbers so you know where to set it.
Compatibility
Bluetooth means it will work with mobile HMDs like Samsung's Gear VR (someone used one instead of the Oculus DK2 during CES). Also, the tracking pods don't need an SDK to work with existing games - they can emulate a gamepad.
The Footplate
A surprising new addition, it acts as an additional stabiliser for the Omni as well as a docking platform where you can safely put on and take off your Omni shoes using its rubberised surface. It also adds to the futuristic look.
Power Button
Just for good measure, a big green power button has been added by the front - who doesn't like those?
Power Supply
You can now plug the Omni straight into the wall (adaptors will be provided), and use it to charge your Pods - awesome!
New Game - TraVR: Training Ops
An easier way to acclimatise to VR. Move through levels shooting targets, and try to beat your best time. I had one perfect run through and almost beat the 1 minute barrier (missed it by .3 of a second). I guess I should have run-and-gunned more. Holding one of the buttons brings up your sights to aim, and knocking out several targets in a row is a lot of fun.
I want to thank Virtuix for giving me this wonderful opportunity to try out the consumer model - it is so hard waiting for it to arrive, but seeing these improvements confirms that the extra development time has been well spent. The Omni will help bring about the VR revolution by adding to immersion, reducing simulator sickness, and making control schemes more intuitive. It will also restore physical activity to our lives and make gamers leaner and fitter. It is perhaps the most significant hardware invention of the millennia so far, in terms of the impact it could have on our daily lives. It has certainly made me feel like an action hero!
This is me having fun with the Omni on the last day of the show (check out my one-handed reload at 1:38, haha):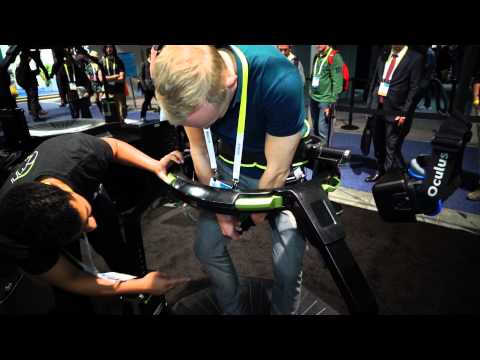 Any questions?
Community Manager at Virtuix