The Development of Training Ops: Prototype to Game
Omni_Dev_Cameron
Posts: 42
Hello everyone and welcome to the thread. My name's Cameron and I'm the Game Designer on the content development team here at Virtuix. I wanted to give you all a glimpse into the creation of Training Ops, and how it has evolved over the past couple of months.
When designing games for VR, and for the Omni, we often have to try out different motions and gameplay elements very quickly to see how they feel in VR. When we came up with the idea of Training Ops, we created a working prototype of the game within two weeks, and had some people playtesting it to see how the motion felt, and to get general reactions to the game concept.
Here are some images of that prototype: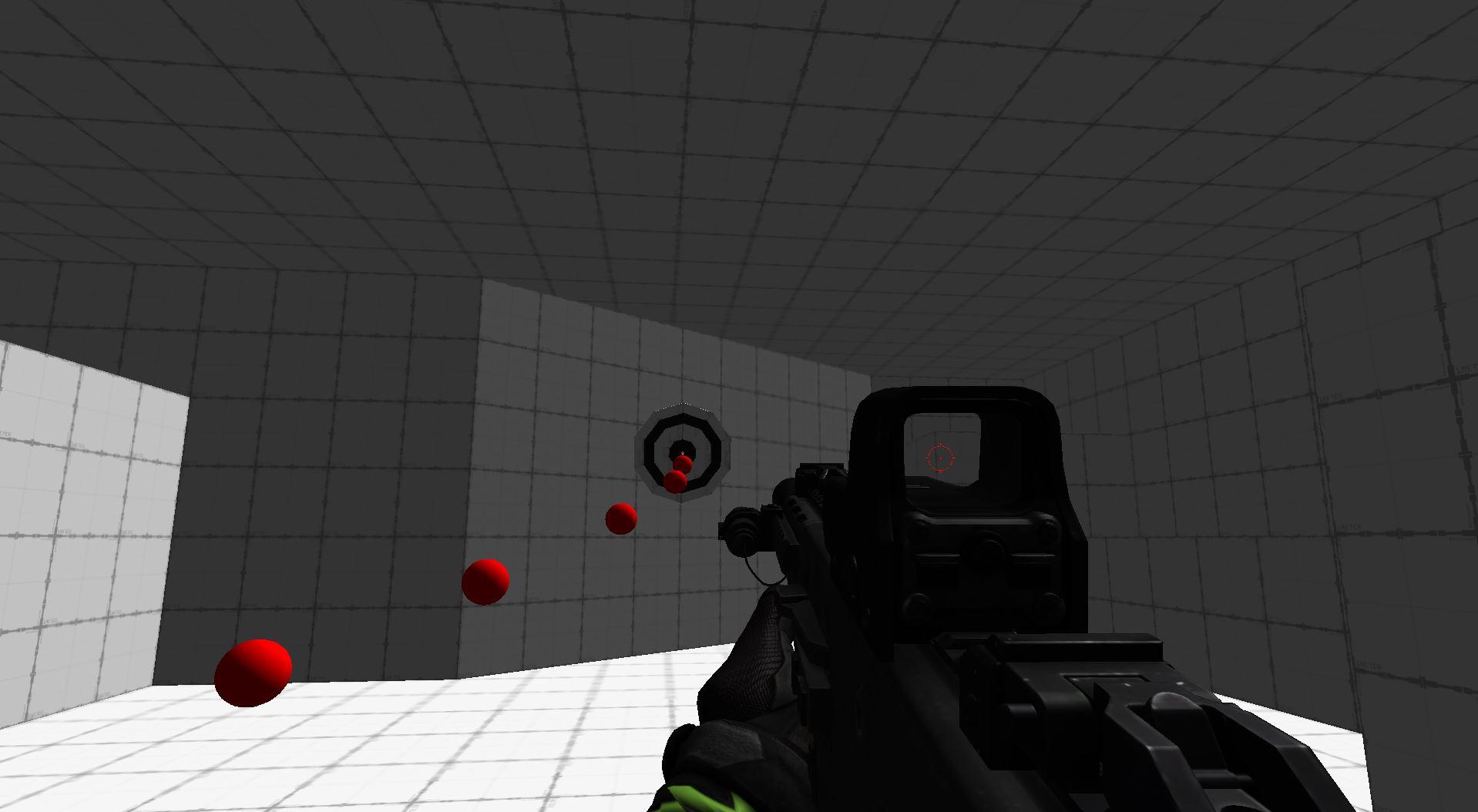 As you can see, visuals were completely ignored at this stage of development. The gun had already been created for TraVR: Shadow Ops, and everything else was limited to grid textures. The turret at this stage of development was just a target that shot red spheres from the center. We took this demo to a VR Austin Meetup and had about 30-40 people from the community play through it, and give us feedback. The response we received from the community was very positive, so we moved forward with the concept. Over the next couple of months, the content team focused on building out a good set of rounds for Training Ops, and working on gameplay, and different obstacles that the player could face. Once we had the gameplay in an acceptable state, we performed a very quick pass on the art to make it more presentable than the simple grid textures.
This was what it was looking like after the art pass:
This version of Training Ops traveled with us to CES and GDC, where we had people playing through it during the conferences. Training Ops received a lot of positive reactions from the community, and we took all of the feedback that we received from the conferences, and continued to improve the experience. After GDC, we added a working leaderboard system to Training Ops, so that the players could compete against each others times on the show floor. We also did a really quick art pass right before E3 (We spent two weeks on creating and switching out all of the assets).
Here are the results of that pass:
The art and leaderboard were both well received at E3. It was really great to see how competitive the players were getting because of the addition of the leaderboard. Some of the feedback that we received during E3 centered around the scoring system of Training Ops, and how not every statistic (ex. Accuracy) was being used to calculate the score, which meant that players weren't being rewarded for being a really good shot. This has led to a completely new system for scoring performance in Training Ops. We have moved away from a time-based scoring system, and are now implementing a points-based scoring system. Time will still be a major factor in the score for each level, but now we will have the ability to give the players bonuses for other statistics (such as accuracy). We are also taking the time to do a proper art pass and create a modular set of assets.
@kippernicus
has shown a glimpse of what that will look like, and we will hopefully have much more to show very soon.
forum.virtuix.com/discussion/2471/travr-training-ops-art-pipeline#latest
I hope this post helps give some insight into the process of developing a game for VR and for the Omni. If you are working on your own VR game or experience or you want to start developing one, then I hope this helps give you an idea of how to start the process. It is extremely important to have working gameplay and to have people testing your game/experience as early as possible so that you can take their feedback and change the gameplay to fit what the players want. Our content team is hard at work, and we can't wait to show the Omni community everything that we have been working on (and I can't wait to dominate the leaderboard in Training Ops).
Let me know if you want to hear about a specific gameplay element within Training Ops (i.e. Scoring System, Target Types, Turrets, etc), and I will do my best to create a separate forum post for it.